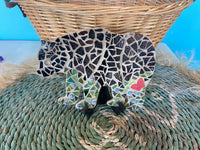 Craft right at home with family and friends. These kits are a great way to spend an evening at home, at the cabin, or outside in the sun with friends. If the item you want is out of stock you can email us and we may have it but have not updated our inventory yet. We have a wide range of options and do take custom requests. Unfortunately we can not customize the colors that come in each kit as that would extend the turn around time for the kit. If you order a kit for pick up we will email you for pick up once it is ready. If you are ordering for shipping we will email you a tracking number once it is placed in the mail. Please keep in mind we are a small business and it takes us one to two weeks to process orders. If you need it sooner please contact us and ask us first. 
Includes:

One (1) 5" x 12" Bear shaped wood base
4 oz Black glass chips
2 oz Blueberry Beads
1 oz Assorted Specialty Beads
1 lb. Bag of grout
2 oz Mosaic Glue
1 Stir Stick
1 Sponge
Printed instructions (includes clean-up tips)
Not included:
Thick work gloves (gardening gloves are great for this!) You must have some kind of gloves on when grouting. 

Drop cloth to protect work surface

A bucket of warm water, do not put waste water down the drain, dispose of outside. 
Sea glass, small decor items, beads to add in - Get creative! We don't recommend anything that is painted plastic as the grout will take the paint off.
*Not recommended for children under 12. Please use your kit within a month or the glue will dry out. The studio is not responsible for replacing dried out glue however if you get your kit and you are missing an item please email us asap and we can help you. 
If you can not wait the one to two week turn around time for us to put your kit together we do have some limited kits on hand in the store on our "in store" page. Those can be picked up same day if we are open. 
These kits are made to order and take up to two weeks, depending on how busy the studio is, to ship or to be ready for pick up. It can be sooner however it really depends on the time of year and demand as we are a small business. Students must pick up order within two business weeks of purchase or will be charged for shipping. If you do not purchase shipping with your order the studio will not ship it. There is no refund for mosaic kits as we order the supplies to match the demand.  
Click here for our current COVID-19 pick-up policies