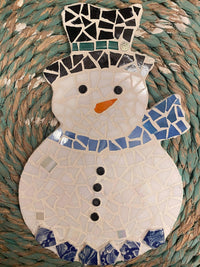 Do you wanna build a snowman? One that doesn't melt away?? Well we have the kit for you. These 12 inch cutie pie comes with fun beads, glass, buttons, and all the fixings to make this item completely on your own at home. 
Includes:
2x2 Ounce containers of white glass
2x1 Ounce container of white metallic squares
6 Round Black beads, two for eyes and four for buttons!
1x1 Ounce of special fun glass beads including snowflake beads
One pre cut orange carrot for the nose
1lb of white grout
2 Ounce of mosaic glue, please do not substitute for other glues. 
Written instructions! 
You can purchase this kit for in store pick up or have it shipped. Because the backing is 12 inch it only fits in a medium flat rate box  but if you are purchasing as a gift for someone else we ship to the lower forty eight, just check out with their name and address as the recipient of the kit. 
Please note that it takes us two weeks to get kits together. We HAND chip all the glass in the studio. Our elves are working hard and may be able to get it out sooner but we like to give ourselves a "buffer" just in case. 
On rare occasions due to supply delays either because of the holidays or because of COVID we may have a prolonged wait time of up to four weeks. We will email you to let you know in advance if there is a delay but like to be fair and let customers know this could be a possibility. We know you are relying on these for gifts and will do our best to either off an alternative kit OR let you know when the shipping can be expected. 
Once you purchase we will call when the kit is ready. If you choose to have it mailed a tracking number is automatically sent from our website to the email provided and generally takes two to three days as these are shipped priority. 
Not included:
Thick work gloves (gardening gloves are great for this!)

Drop cloth to protect work surface

Sea glass, small decor items, beads to add in - Get creative!
*Not recommended for children under 12

Please allow up to 2 weeks for your kit to arrive.

Click here for our current COVID-19 pick-up policies