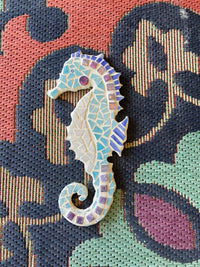 Craft right from the comfort of your own home! Conveniently shipped right to your door. 
Includes:

One (1) 5" x 12" Turtle shaped wood base
2 oz Purple Squares
2 oz Teal and Blue Glass Chips
1 oz Assorted Fun Beads to Add
 1 oz of White Glass Chips
1 lb. Bag of grout
2 oz Mosaic Glue
1 Stir Stick
1 Sponge
Printed instructions (includes clean-up tips)
Not included:
Thick work gloves (gardening gloves are great for this!)

Drop cloth to protect work surface

Sea glass, small decor items, beads to add in - Get creative!
*Not recommended for children under 12

Please allow up to 2 weeks for your kit to arrive.

Click here for our current COVID-19 pick-up policies