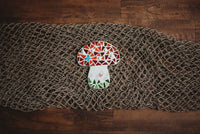 All kits come with instructions and we do have video tutorials on our Facebook page on how to grout if you need help. Enjoy! 
One wood base
.5 oz Red Glass Chips
.5 oz White Glass Chip 
.5 oz Assorted Marbles and Beads
Magnet for Back (optional)
1 oz Mosaic Glue
0.5 lb Grout
Printed instructions (includes clean-up tips)
Not included:
Thick work gloves (gardening gloves are great for this!)

Drop cloth to protect work surface

Sea glass, small decor items, beads to add in - Get creative!
*Not recommended for children under 12

Please allow up to 2 weeks for your kit to arrive.

Click here for our current COVID-19 pick-up policies