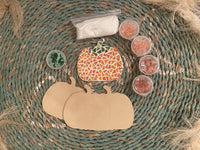 This little party pack covers a group of four 6 inch pumpkins. Smaller mosaic projects are not necessarily easier to make so grab the tweezers! This the perfect artist fall activity for families and friends
FREE SHIPPING on this kit until 10/15/2021 enter "SPICEISNICE" as your discount code during check out. 
Includes:
3 of 2oz chipped green glass
 4 of 2oz chipped orange glass
4 of the six inch wood pumpkins
2.5lb of black grout
1 oz of assorted fun beads 
Not included:
Drop Cloth for work surface
Container for mixing grout, best if its disposable, if not clean out container thoroughly before grout dries. 
Sponge for grouting
Please allow up to 2 weeks for your kit to arrive. If you order a kit for pick up we will both text and email to let you know once it is ready. If you have any questions we are not available by phone but are quick to answer facebook or email messages.